We launched our official website - MapOnShirt.com exhibiting personalized wear- on Product Hunt and watched it rise to the top of product's list. This first-ever online premier has made us giddy in the toes, not to mention has provided an immediate feedback that otherwise would have taken long to gain. That's basically what Product Hunt does – allowing people explore new products launched recently in the market.
Such a stance of easily accessible exploring and sharing of products is becoming as favored as the famous Reddit or Hacker News. It allows a voting and commenting system through which the products with maximum of each rise up as suds on every-day's list, and the market thrives at peace; the users feast on successful products while the launchers gain immense visibility and traffic to their new business.
MapOnShirt.com was launched on Product Hunt on Sep 13th, and if modesty allows, took the stage by storm. The best part of PH is the aftermath of launch day that thrives once the day ends. Collecting as many 'Up-votes' as 330, we settled at the day's Top 6. We ended Product Hunt week with impressive 7,049 unique visitors and more than 20,450 page views, therefore digging heels quite prominently in.

With stirred curiosity, we decided to obtain a percentage pi-chart to bring more accuracy to our PH stats. Through Google Analytics tool, United States appeared to maintain a big, 30% of the circle, Netherlands covered a 9.21%, Japan with 7.93%, United Kingdom took over 6.31%, Germany settled for a 4.55%. We personally forward our genuine thanks to all those who Up-voted our tool and allowed MapOnShirt to mark a successful Product Hunt week.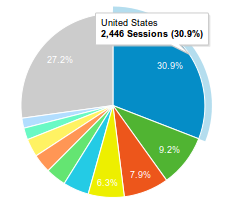 Putting aside the statistical details of the product that help you overview it on a conference table, being featured on Product Hunt features you in the eyes of aimed audience and publications. We dealt with an influx in our order supply since the launch and recorded notable activity spikes on Twitter in the form of trending hash-tag. About hundreds of tweets were directed to, or hashed with MapOnShirt. Summing up all the rippling effects, it has gained us significant conversion rate and consistent traffic – today.
Here you can see some of designs bought during the Product Hunt week: