The best thing about Maps is that life ceases to function without them. Not immediately, true, but it will at a point. Whether it is the Global Positioning System, the old compass or humans explaining the routes, the map is an essential element in each. They would be at loss in Atlantic Ocean with no idea which way the land of USA began.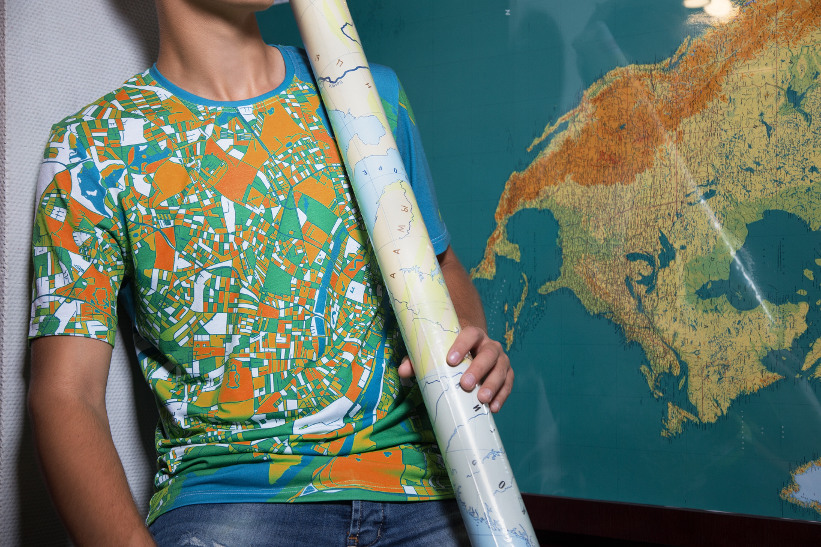 That said, MapOnShirt excitedly exploits the necessity of maps by stretching it to little, unique bursts of pleasure and aid. Have you ever wondered how much 'personalized map-wear' is fit for growth hacking and effective advertising? Just imagine all the possibilities of utilizing MapOnShirt items that guarantee a promising growth in the business, thanks to its unique tech-creative approach. Apart from featuring your company with MapOnShirt, let's look at some more ideas that simply enhance the look of a service/business through pleasing the customers with excellent customer service:
Order some customized MapOnShirt pillow-cases with nearest tourists' points of interests and put it on all the pillows/cushions you are leaving in the hotel rooms or lobby. Saturated and appropriate, it's a win-win situation: tourists pleased with being magically informed of their POIs and you have a beautiful decoration asset as an impressive taste at hand!
Do you have a local business of a delicious diner, yet which is struggling currently? Feature your local business with ideas grand as multinational ones! Collaborate with a taxi-service and add designed, business location-mapped cushions in cabs to subtly and sophisticatedly apprise the customers of your business's route.
MapOnShirt particularly specializes in personalized T-shirts; easy, washable and ideally comfortable. You can get printed airline company routes on casual Tees to wear in the malls or parks and advertise what otherwise is a duller subject.
When it's the wearing item, it can be clothed at a number of significant places for a number of interesting reasons. Let's dress our supermarket-workers in similar T-shirts featuring a stunning map of company's supermarkets/malls/offices or any other market-point so to catch eyes and attention in the most worldly way possible. You look dandy with a cool outfit, and advertise without words!
Once again, MapOnShirt is a perfect platform to bestow the foreign income with maximum comfort and delight. Make touring easier for tourists by allowing a comfy support at the restaurants they dine, as well as print souvenir shops' locations on cushion-cases through MapOnShirt as enticing, vibrant map-designs.
Although these are merely five points, brilliant ideas to feature your company and hack the growth in the literal sense are positively numerous. A world map is a huge domain – play with each portion and you'll have hundreds of ideas ready. On a last note, MapOnShirt provides exciting discounts on orders exceeding 10 items; eleven products are harmless – get set go!